Ugh! Plantar Fasciitis. One of my least favorite injuries to see coming in my doors as a therapist.  Encouraged yet?
Plantar Fasciitis is a tough injury to deal with and overcome. I look at individuals with plantar foot pain near the heel is two categories: acute or chronic. Management is somewhat dependent on which category you fall into. The biggest difference is that if it is acute (short-term … let's say <6 weeks old), you want to do everything in your power to stop it from getting worse right now! I'll outline a few recommendations below. If it is chronic, there are some recommendations for things that might help depending on you as an individual. It often seems that each individual has a pretty specific response to all the possible interventions. Again, I'll outline some recommendations below.

Plantar Fasciitis – What is it?
It is basically an irritation of the soft tissue along the bottom side of your foot. In particular, the heel is often involved. Fascial tissue is a thick tissue that is somewhat a middle ground between ligaments (firm, lacking mobility, meant to hold in place) and muscle (pliable, mobile, meant to move). In the foot, it is a thick tissue that covers primarily the toe flexors (curling). In a true "acute plantar fasciitis", there is swelling in that heel area that can often be managed and certain techniques that can help it. In a "chronic plantar fasciitis" it gets trickier because I don't really feel like we in the medical community know exactly what is going on …
There are multiple theories as to what is happening in Plantar Fasciitis, and I'm not too convinced of any of them. The traditional you will hear about is that there is scar tissue and restrictions built up in the tissue along with tightness. This theory leads to recommendations of stretching and of typically painful massage treatments on the bottom of the foot. I've used (and currently use) techniques based on this theory and have had some success … other times, it doesn't seem to help much. Another theory is that the pain is related to a movement pattern fault. Basically, this theoretical standpoint would be that there is a strength or mobility issue somewhere likely in the foot, ankle, knee, hip, or back that is causing things to move differently than designed or placing more onus on the foot to handle the workload. This results in foot pain that could be related to any myriad of other things going on. I tend to gravitate toward this theoretical standpoint, but it is pretty wide open to interpretation.
Ultimately, I use the term Plantar Fasciopathy or Plantar Fascial Syndrome. Any time you hear -opathy or syndrome, you can basically assume that we in the medical field are saying "I don't know". I have some ideas to what is going on, but ultimately would not settle on any one thing being the ultimate definition.
So that's what it is … kind of.
Acute Plantar Fasciitis Management
Number 1 rule: don't let it turn into chronic plantar fasciitis. 
If it has been going on <6 weeks or so, do what you can to get rid of it. Here are some tips:
Wear supportive shoes 95% of the time. On the flip side, do not wear flip flops or go barefoot … even in your home
Consider getting an over the counter orthotic or a semi-custom orthotic that you can purchase at multiple shoe stores and running stores. However, it needs to be "firm or rigid". Resist the urge to get the nice, cushiony ones. Generally, there is no need to get a custom orthotic.
Ice or ice bottle roll it gently 1x/day
Before getting out of bed or out of a chair, wiggle your toes and pump your ankles for 30+ secs to decrease your first step pain
Limit your time on feet as much as you can (but don't be sedentary). Specifically, try to spend less time on concrete and up on feet for extended periods of time. This includes backing down on running a bit as needed; although you usually won't have to stop completely
Work on your big toe and ankle dorsiflexion mobility (see pictures below). I recommend starting with 10-30 sec holds for these stretches eventually building up to a total of 3 mins if you feel (or have had a therapist tell you) you are actually limited in these motions
Stand on one leg barefoot while you brush your teeth or wait for a microwave/coffee/toaster – it works on balance and should get your ankle and foot muscles activating also
Consider seeing a PT early on to try to get rid of it fast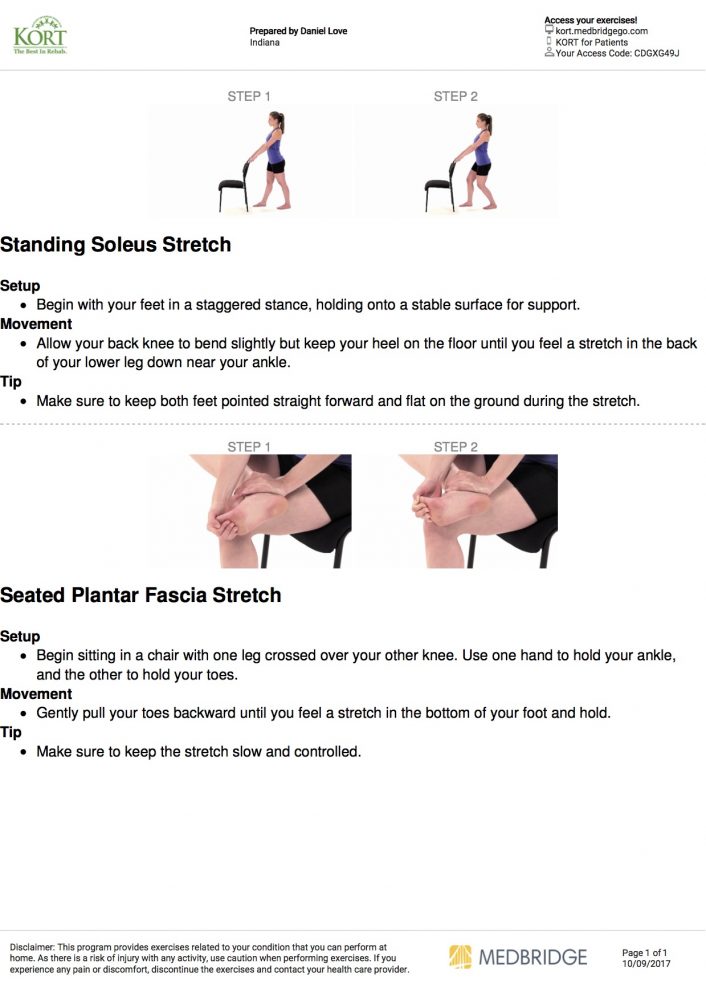 Chronic Plantar Fascial Syndrome Management
Why did you break rule number 1??? :)
Now, we are into a whole other ball game. And unfortunately, this one is much less predictable. If you haven't tried any of the things under "acute" management, go ahead and try them. They will often still be helpful and play a role in your getting better. Here are some other recommendations that *might* help:
See all of the above recommendations.
Consider seeing a PT if you haven't yet
Consider rolling your foot on a  golf ball or racquet ball to the point of some pain but not overbearing for about 2-5 mins/day
Begin trying to complete "toe yoga" … google it. It's seriously hard to control those toes for most of us!
Consider completing some strengthening – heel raises coming down very slowly (double and eventually single leg), scrunching a towel, foot doming are all common options in therapy
If all of the above has failed, consider seeing a podiatrist who might recommend an injection
Can you run thru it?
I use what I call the stoplight rules for nearly all of my runners, when it comes to this question. Bone injuries are about the only time I will simply say "don't run". See image below for those rules: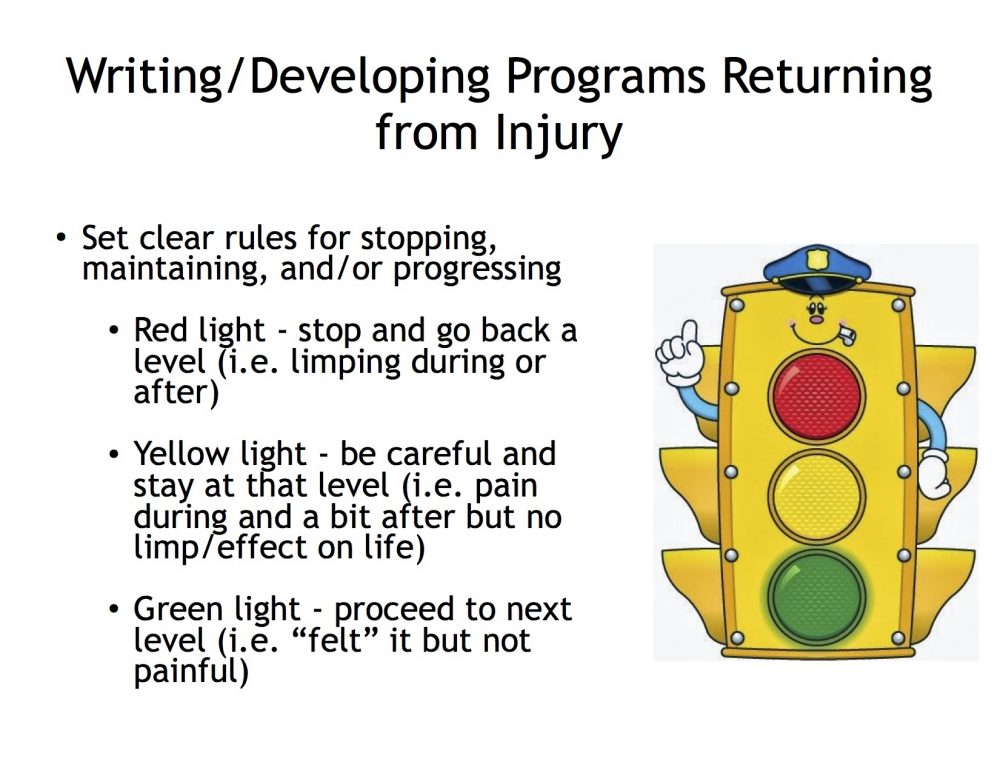 Prevention
There are only a few research-proven risk factors for plantar fascial issues, and even these could change by the time another major review paper would come out. Most of the above could be considered a way to prevent it; however, none of it has been proven to prevent it. If I had to single any specific things out, it would likely be limiting time on concrete, making sure your ankle and big toe mobility are good, stand on one leg from time to time, and complete some toe yoga. More than anything though, I would recommend slowly ramping up your running and staying consistent with your mileage/efforts over big chunks of time. If running is to "cause" plantar fascial issues, your training structure is most likely to blame.
As you have probably experienced first hand, plantar fascial issues are no fun! Thanks for a great question.
Hope this helps!
For
daily wellness, marathons

and

every mile in between...

- Doc