Have you ever been to a Middle School Cross Country meet? Or to a small local race that has younger runners in it? If so, you have likely observed something like this scene:
A young runner (Runner #1) comes near the end of the course with the finish line in view. He/She is struggling. He is slumped over, grimacing, flailing an arm while another one barely moves. Her head is cocked over to the side and her steps are heavy as if she is sticking to the ground. He/She feels like there is nothing left in the tank.
Then, seemingly out of nowhere, another runner (Runner #2) comes up to the side and passes our first completely spent runner.
And finally, seemingly out of nowhere, Runner #1 sees Runner #2 pass and suddenly has more energy and picks up his/her head and opens up the stride and sprints to the finish making sure to not get beat by that runner that snuck up out of nowhere.
Of course, I could be describing many of us as adults too :) This sort of thing happens all the time. Just as often, it happens the opposite way where Runner #1 is never able to regain that energy and finish with a kick. What is the difference? Did Runner #1 have a sudden chemical or physical shift in their muscles that allowed more work to be done? What "reserve" did that runner tap into? And how can we use that to our advantage?
If you haven't yet read the Part 1 blog regarding pain science and fatigue science, please click here to get a baseline for what will be talked about below. As a refresher, below is a schematic related to fatigue science that I developed. It is certainly not original ideas and is largely based on Tim Noakes "central governor" model, but this schematic is original and will be the baseline for today's blog post.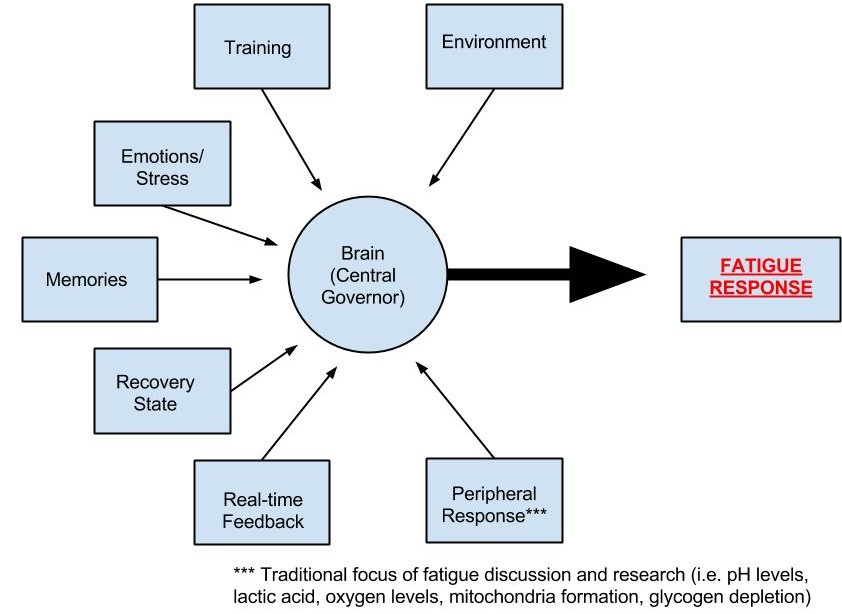 Real-time Feedback
In the example above, Runner #1 received some very in-your-face real-time feedback. He/she saw a competitor come up from behind and pass alongside them. This real-time feedback led to a change in the fatigue that Runner #1 was feeling, and in doing so, allowed Runner #1 to kick it into gear with a strong finish and pull out the win. This is a great example of how fatigue is not just related to the "peripheral response" that occurs in the muscles and with the chemical balances internally. Fatigue can be manipulated, and that means we can have an influence on how fatigue affects us during competition – both from a positive and negative position. Here are some other examples of real-time feedback:
GPS watch use
Positive – Real time feedback in the form of current pacing is often a great feedback tool. I think it is especially helpful for helping runners slow down on their supposedly easy or long runs. As other blog posts have discussed, this is a major problem with many runners. It is often also a great resource for "race pace" or specific prescriptions of "tempo" pace. Many coaches – including myself – are trained in a Jack Daniel's Philosophy of coaching that is a very pace-specific style of coaching. Although, I tend to not use his specific prescriptions, being able to look at a watch and know my pace will sometimes help me nail a workout.
Negative – Having constant real-time feedback from our watches can also hurt us in many ways. We can become obsessed with nailing our mark for a certain split or mile. And sometimes, it can actually lend to us not reaching our potential as a runner. Here's a good example of that with me:

Workout 1: Roulette run with 12+ mins of total race pace ("on" times of 1-6 mins depending on roulette draw) – I ran this workout to a "t", and made sure to stay right on my 10k race pace. My off times were slower but still at a strong effort. I struggled during the last two reps to maintain my speed at race pace, especially because the last rep ended up being a 4 min one. Pacing for my "on" times was about 6:10 pace.
Workout 2 (7 days later): Roulette run with 15+ mins of total race pace ("on" times of 3-6 mins depending on draw) – I ran this workout blinded until the end of a time rep, meaning that I didn't look at my watch and ran "race pace" by feel/effort. I felt great the entire run including on my last rep which was a 6 min draw. Pacing during this workout was about 5:55. Did I gain 15 sec/mile of fitness in 7 days? Absolutely not! By not constantly getting feedback from my watch, I was able to run much faster and feel much better doing it!
Track/Course
Positive – Many plans call for track workouts, which are a definite form of real-time feedback. Any of us who have spent much time on a track know exactly how much 400m is and how far away the finish line seems sometimes. This can be powerful because we can be very specific about how hard we can go based on where we know we are. The same can be said of a course that we are very familiar with. I've run enough 5ks that I now know how much 0.10 miles is generally to within 10 feet as I estimate on any run. I was on one of my typical courses the other day and looked up to see my house and guessed I was 0.17 miles away from it … and was spot on. This sort of familiarity can come in handy when we are reaching down for what's left in us for a final kick or to know that we can finish a run based on what is left.
Negative – Knowing the course or distance on a track provides specific information to our brain about how much work is left. This is a reason many coaches will "blind" their athletes to how many track reps they will do – in order to prevent athletes or athletes' brains from holding back on early reps. When we know – or think we know – what is coming both our conscious and unconscious self are making decisions about how we experience fatigue. Another recent personal example:

I was running a 10k recently and knew I would be near or at the front, so I made sure to look at the course map. A 5k was run in conjunction with it. I focused on the 10k map but saw that the 5k runners broke off to finish with only about 1/4 mile left for them … this meant at that point I would have a little less than 3 miles left. I had planned to "race" this event instead of "time trial" it which meant that I was wearing my GPS watch, but I was not really looking at it much at all during the race. It was a challenging course, and I was leading, so I stayed pretty concentrated throughout. I started to experience some significant fatigue and realized that I had not yet reached the 5k cut-off I remembered on the map … so I slowed down until I checked my watch about 1/2 mile later and found out I only had another 1/2 mile to go to the 10k finish. I had misread the map! And because of my "knowledge of the course", I gave into the late race fatigue I was having … thinking it was mid race fatigue.
Other Runners
Positive – I opened the blog today with the example of a runner sensing or seeing another runner closing the gap and suddenly "finding a kick" to finish strong. This is just one of many examples of how other runners can provide us with good real-time feedback. Many of us who run local races have a "nemesis" (even if it is completely friendly) – someone who always manages to finish just in front of us. This type of person can be a positive driving force when we see that we are close to beating them out for a spot. Similarly, many people will discuss what pace they plan to run prior to a race leading us to lock in on that person as an "external feed back" target. All of these and more can positively impact how we experience fatigue in an event.

Another personal example comes from a HS Semi-State Cross Country race I was a part of. I typically would run 4th or 5th on our team and was cruising along at my pedestrian pace when I noticed our number 2 or 3 guy barely ahead of me in a crowd of runners. I literally yelled out his name, "____, what are you doing back here?". Two things then happened … he took off realizing he was having a worse day than he even thought, and I took off realizing that the team needed a boost if we had any chance of making it out to the State meet. At that point, we both forgot about our fatigue and sped up regardless of how we felt. We didn't even come close to making it to the state meet by the way :)

Negative – What if our "nemesis" or random person with a good "projected pace" is having an off day? Another potentially negative way other runners can influence us is convincing us to run too hard. Maybe a faster training partner is going out for a base run that is more at our tempo run pace. So, instead of running a base run, we run a second tempo workout for the week and experience more peripheral fatigue. Finally, another way other runners can be a negative "real-time feedback" mechanism is projecting our abilities – good or bad – based on other runners. Thinking about a training partner who is a "better runner" and realizing we are going faster than that person did on this course a week ago can lead us to adjust our pace and experience fatigue in a negative way.
These are just 3 examples of real-time feedback that can have an impact on our fatigue as runners. Depending on our personal strengths/weaknesses and our running experiences, any of these 3 categories could be an asset or a liability for us.
Do you always obsess over your paces from your watch? Maybe this is actually giving your brain feedback that leads to earlier and stronger feelings of fatigue …
Do you struggle to know when to kick it in to final gear? Maybe you should spend some time on the track to fine tune your ability to predict how much of a race is left …
By mixing up and using real-time feedback in various ways in our training, we can become a stronger runner who is more resistant to the fatigue experience our brain creates. By controlling the types of real-time feedback that we can and decreasing or increasing the amount of information our brain has to make a decision, we can facilitate improved endurance and resistance to fatigue!
For
daily wellness, marathons

and

every mile in between...

- Doc