Fair warning: This will be the most "science-y" series of posts to date, so feel free to tune out to your regularly programmed blog reading if this is not for you :) Today, I am going to begin exploring the relationship between pain science and fatigue science and how that affects us as runners. So, a few disclaimers:
My goal is to take advanced human science and break it down to somewhat simple explanations … which means this is not going to give full justice to the entire concepts
This is complex science, so don't worry if you are fully following along at all times
It might seem that this would only apply to "advanced" or "elite" runners, but it really is universally applicable.
I'm not sure how detailed I am going to get as I write this series of posts, so any questions or feedback would be great!
So, let's start with the basics (and old models of pain science and fatigue science). These are things that we probably will all have at least a basic understanding of. To be clear, these principles still apply and are still accurate, but modern explanations of pain/fatigue take much more into consideration.
When you get hurt (i.e. step off a curb and sprain your ankle), you have an injury to your ankle that leads to a pain response. This process looks something like this: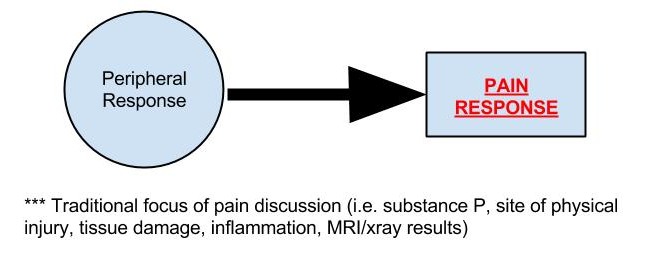 Now in older understanding, this is how pain would generally be explained. You sprained your ankle, which led to a myriad of chemical reactions and responses that fired certain neurons that led to your experience of pain. Torn ligaments, stretched muscles, swelling at the ankle all led to pain. Again, this is still mostly accurate. These changes do occur and do contribute to pain … but they don't explain the whole story …
Fatigue science is very similar: when you are running, things in your body are changing, and old fatigue models looked something like this: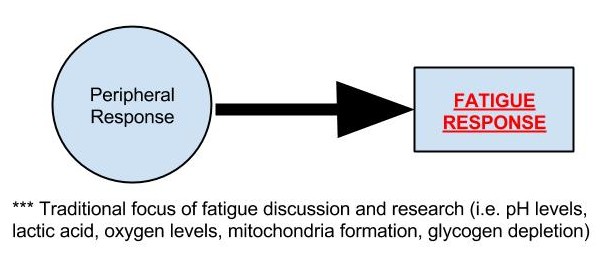 So, the traditional explanation would be that you start running and have these physical and chemical reactions in your body. The biggie that people talk about is lactic acid buildup. This is a frustratingly misunderstood concept, but it is not my goal to change that rumor, as many others have (see Alex Hutchinson's post here). Suffice it to say, often the thinking is that at some point enough chemical builds up and causes the muscle to stop working efficiently (hence, fatigue). Again, there is a certain amount of truth to this explanation … but there is more at work …
Modern pain science has led to a big shift in how pain is talked about and how pain is treated (or I should say is leading to a big shift). Specifically, these changes have been most prevalent in the world of chronic or persistent pain; however, their principles apply even to the most acute injuries that occur (including a sprained ankle like described above). Much of this change has occurred thanks to David Butler and Lorimer Moseley and their popular work on pain neuroscience. In a simplified way, they have brought to the forefront the concept of "all pain coming from the brain" in a way that looks somewhat like this:
If you look closely, you'll see that the "old model of pain science" is still present in this system: peripheral response. However, the diagram should make clear that pain is much more complicated than swelling in an ankle. Multiple factors (more than what is shown above) contribute input to the brain in order for the brain to decide a) whether a pain response is necessary and b) how big that pain response should be. In acute injuries (i.e. ones that just happened), the peripheral response plays a very, very large role. But as time goes on, other factors begin to play bigger parts. And all of these components are operating together at all times. I don't want to go into a big explanation of pain science because I am using it to make a point about fatigue, so here is the "Cliffs Notes" version of the takeaways:
Pain always comes from the brain; it is not a direct response to chemicals/injury/swelling
Pain is a protective mechanism of the our complex human body; pain is often felt before any damage actually occurs (i.e. overstretch your hamstring and you feel pain but don't necessarily have any type of damage); it is a warning system that our brain employs to prevent us from harming ourselves a) at all, or b) further than we already have
Our pain can be influenced (ramped up or down) by any of the contributors noted above
Modern fatigue science and understanding has also led to a big shift in how fatigue is talked about and studied. Much of this change came about with Tim Noakes's introduction of a "Central Governor Model" (I used that phrase in both the pain science schematic above and in the fatigue schematic below). Basically, he introduced a similar concept as Moseley and Butler … it was just in regards to fatigue. Again, simplified this model looks something like this: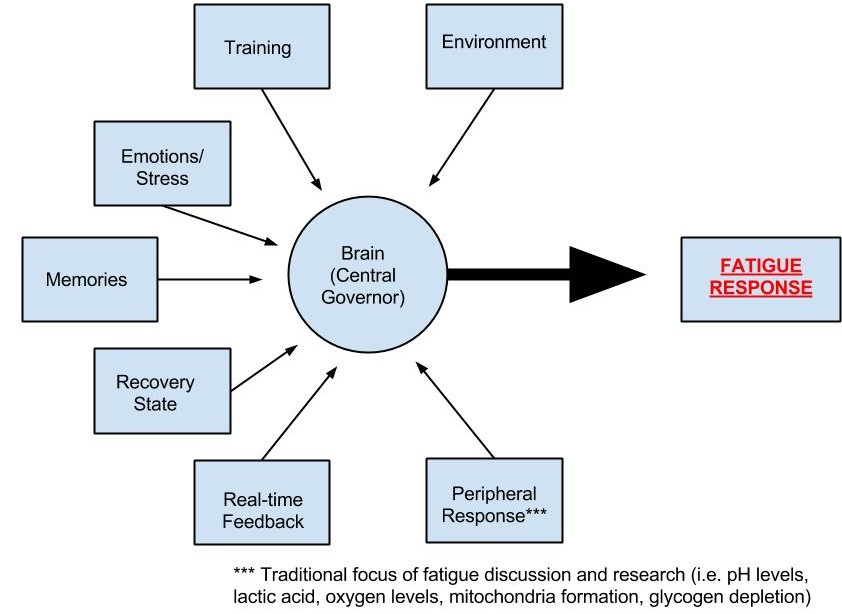 Again, the traditional fatigue model is included in this theory. Certainly, chemical changes in the muscles, local muscle fatigue/damage, and energy availability all play a large role in fatigue; however, it is clear that many other factors play a role in fatigue as well. This model explains fatigue in a similar way that pain science is explained, and the science is also very similar. For instance, the brain produces a "fatigue experience" long before we are at any major risk for problems in our major systems. Fatigue is a protective mechanism, not a direct response to peripheral chemical/physical changes. Our brain takes in as much information as it can to make an educated decision on whether it is appropriate for us to feel fatigued or to feel fresh. Again, let's think about some take home points:
Fatigue always comes from the brain; it is not a direct response to chemicals
Fatigue is a protective mechanism intended to stop us from doing harm to ourselves (i.e. heat stroke, heart failure)
Fatigue can be influenced by any of the above factors
Finally (for this Part 1), it is fascinating to think about endurance running as a sport that spends its entire time in a never-ending balance of both fatigue science and pain science. In coming blog posts, we will explore different ways our pain and fatigue experiences can be influenced by some often not-talked-about factors that contribute to those experiences. Again, this is not exclusive to elite runners. How many of you have had a bad run after having a really bad day at work? How often have you struggled through a speed workout because you didn't sleep well the night before – regardless of how little or much you ran in the prior days? How many of you have pushed through pain during a run only to find that you actually have no injury? Or pushed through to the point where you did get injured? How do we decide when to stop and when to push through fatigue or pain? How do we PR much greater than we should be able to based on our training?
The answer to these questions: It's complex! It certainly involves training (and heavily so), but it also involves much, much more …
Pain and Fatigue are Human Experiences much more so than just "physical experiences"!
For
daily wellness, marathons

and

every mile in between...

- Doc