Let's paint a picture of a pretty common scenario:
You have a high intensity speed workout or long tempo session planned for early evening
You slept in this AM to get a bit more sleep and rushed around to get out the door to start your work day. Work was a grind today with long hours and big projects that seemed to go nowhere. Then, right before leaving your boss called you in to talk about some underperformance on one of those projects. Finally, you get to go home … and really need that workout tonight
You quickly get your running gear on because you know you need to get that run in to relieve stress. Working hard sounds appealing too, so you are glad that it is a workout night. You do your warm up and feel a bit sluggish and bogged down but okay to continue
You start your workout, and you can barely hit your mark on the first and second rep, and it just goes way downhill from there. Instead of feeling refreshed after that hard workout, you are drained even more and mad that you couldn't hit your goals again.
What a waste of a day!
Anything like that ever happen to you?
Why? Why were you not able to perform like you "should have been able to"? Let's assume you weren't overtrained, you weren't injured, sleep had been good, and you were in good physical condition for this workout. So, what happened? Why were you so sluggish?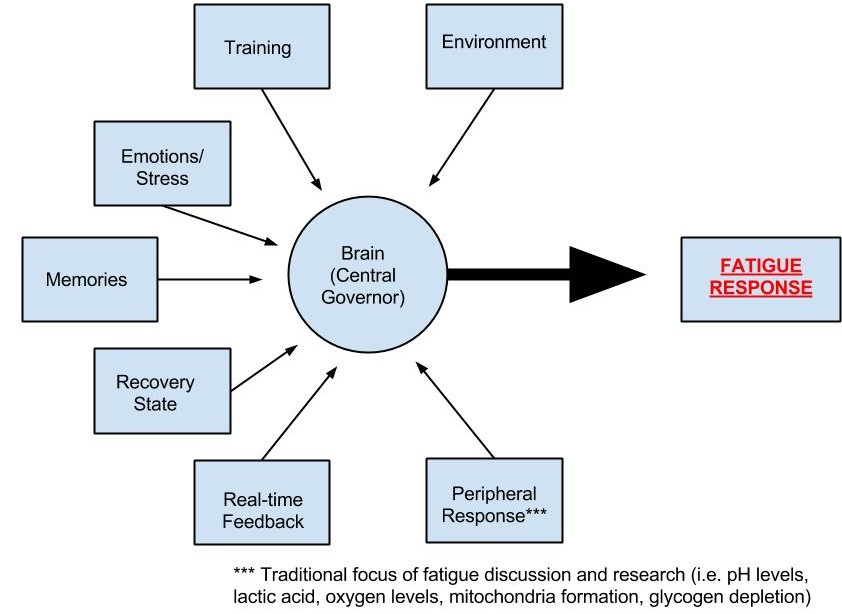 Likely, your emotions and stress were playing a big role in what you were feeling. The big increase in stress combined with other factors to influence your brain to produce a stronger fatigue response than typical. And then you bombed your workout just like you bombed your day :(
Today, we will spend a little bit of time exploring how emotions, stress, and memories can influence our brain and, therefore, influence our fatigue response during running.
Emotions/Stress Influence
More and more research is being done in the field of strength and endurance on the role of the brain in limiting strength, power, and endurance output through pain or fatigue responses. And stress is one of the areas that is showing some of the most interesting results. From the scenario above, many of our experiences, and research, it is pretty clear that cognitive/emotional stress can and often does:
Decrease endurance and strength performance
Decrease cognitive performance and ability to concentrate
Increase perceived exertion during physical and cognitive tasks
Decrease overall performance
Lead to disappointing results and feelings of failure or efforts to overdo workouts
But what is interesting is what we can do to combat that (other than not get stressed). Given that cognitive stress pretty much always leads to the above results (even if in a small way), what can be done to buffer that response?
Listen to your mind/body … sometimes. Some research is showing that increased injury risk is associated with increased cognitive stressors. An interesting study on football players showed that high academic stress was 2x more likely to be related to injury or illness vs low academic stress. Part of this might be related to decreased neuromuscular performance. Basically, the brain might not produce optimal muscle function due to being "cloudy" and "bogged down". This could lead to worsened coordination, motor planning, and motor output … along with decreased performance. All of this could increase injury risk.
Don't listen to your mind/body … sometimes. On the flip side, we might very rarely get a workout in if we are too concerned about our cognitive levels of stress. Similarly, our brain and body might never learn how to train and perform under cognitive stress. During times of high physical exertion, the brain has to be highly alert (i.e. under a lot of stress) … think races or the biggest workouts. Because of this high stress environment in the brain, it makes sense that "training the brain" to work within that stress would be a good idea. Occasionally, working hard after a stressful brain day is a good idea … BUT … remember to run more by effort than by time. It is almost guaranteed that your times will suffer, but there is still a lot of value to running hard – both for the brain and for the body. Ultimately, our brain and body respond more to perceived effort way more than anything we see on a watch, so we have to be willing to let go of that watch/time sometimes.
Intake glucose. It's commonly known that intake of glucose can help in longer races with the local muscle fatigue and brain fatigue. However, even taking in some glucose for shorter races or for workouts might be helpful to aid the brain in getting some clarity and ability to focus before the workout begins. So, consider using some energy gel, gummies, bananas, etc. before the workout.
Integrate brain training into workouts. Most of the cognitive stress talked about so far has been pre-workout cognitive stress; however, there is some cool research being done on within-workout cognitive stress that warrants talking about. A military study looked at two groups of soldiers – group one did a cycling workout at 80% of VO2 max for as long as possible, group two did the same but with the addition of cognitive tasks where they had to manipulate certain letter combinations in front of them. Both groups over 12 weeks improved their VO2Max about equally. HOWEVER, the cognitive task group improved their time to exhaustion by 126% on the final test (when the cognitive task was removed), whereas the control group improved by 42%. That's an improvement of over 3x for the cognitive-task group on the "performance event" day. What does this mean? Basically, the combo of physical and cognitive work led to a decreased perceived exertion of physical work when taking away the cognitive task. They felt much stronger and lasted much longer on the "performance event day" having worked on cognitive tasks during training. How can you repeat this? Well, I haven't seen a study on running but anyway you can do a cognitively demanding task during workouts would be good –> solving math problems in head, listening to a podcast of cognitive task questions, figuring out exact interval splits during workouts doing math in head, learning a new language, etc. would all be options to consider.
Sometimes, negative emotions and stress are more a part of the workout or race performance itself – most often in the form of anxiety and fear. Two common methods have often been shown to help in this type of scenario:
Visualization – It's as simple as it sounds. Visualize yourself succeeding whether it is a specific workout or race. Seeing ourselves succeed in our head can literally help make it happen. While you may not have physically "been there", this is a way to let your brain "be there" before it actually happens. Visualize yourself feeling strong and finishing well at a race and recall that during the actual race. Similarly, you can visualize yourself at specific points on the course or during specific portions of a race. A good example of this might be visualizing yourself peaking a major hill on pace and feeling strong. Or maybe even visualize a specific tactic you might use (i.e. a specific time or spot to put in a surge).
Self-talk/mantras – By now it should be well established that our emotions/stress can really have a negative effect on our fatigue/performance. Similarly, they can have a positive effect! Mantras can be very helpful in this … especially when you have trained using them. Brief positive statements can help the brain "reframe" the emotional experience that is happening during hard workouts or races. POSITIVE is a key word here. "Don't slow down" is not nearly as positively effective as "Quick feet" or "Stay strong". There are all kinds of phrases that can be used. Keep it simple and short and positive, and you can't really go wrong. And remember to practice them during workouts or long runs. If you can narrow your focus then, you will be prepared to use it on race day!
Memories
Memories can also have a strong influence on how we perform and on how fatigue is perceived. Certainly, memories are very directly linked to emotions/stress, so all of the above tips can still apply. Below are a few ways memories can have both positive and negative impacts:
Training log review

Positive – Have you had some good workouts recently? When we take time to review our last block of training or highlight a few key workouts where we really had a positive day, we can build up positive emotions and memories going into the race. Sometimes, we can even look at our hardest workouts and make the mental jump that the race will be easier than that workout.
Negative – Ever really bonked on the last few workouts before a race? Yeah, that never helps when you are wondering how you are going to do. How do you combat that? Remember that training occurs over long periods of time. Your most recent bouts are a small fraction of what the entire training block contained. Also, sometimes our hardest workouts are intentionally done without full recovery. On race day, you are likely the most rested you have been during the entire block of training.

Last race

Positive – Did you nail a PR in your last race/workout? Repeat what worked well for you … including the superstitious. There is reasonable evidence to suggest that wearing the same socks or race kit can actually lead to improved performance – again, it influences the brain's control of fatigue! Remember the harder parts of that positive race and how you overcame them to succeed and be ready to recall them if the going gets tough in your current workout/race.
Negative – Did you bomb your last race/workout? It happens … it doesn't mean you are a terrible runner … and certainly doesn't mean you are a failure as a person :) Being able to objectively look back and look at what you can improve on can be of the utmost importance. Were you rushed in the build up? Did you recover well and long enough? Were you distracted and bogged down mentally? Recognize that poor performance happens, identify what you can change, and be confident that you have made positive changes leading into this workout/race.

Extreme pain/fatigue

Positive – Remember that time that you just knew that you couldn't get through a workout or PR in that race … and then you did? Pain and fatigue are temporary … and they are produced by the brain. Reflect back on all the times that you have fought through pain and fatigue, and be confident that you can do the same thing again. It's likely that you have faced the same fatigue during training that you will face on race day. Caveat – Don't fight through injury pain; my rule is consistent limping = red light. Also be aware of signs of heat exhaustion/stroke.
Negative – Having trouble forgetting those times fatigue and pain got the best of you? Did you hit the wall in your last marathon? Again, what can you learn from that time? Can you improve your nutrition, recovery, race strategy? Make objective changes, and be confident in the outcome. Use the strategies mentioned above to get control of your cognitive fatigue contributions!
Emotions, stress, and memories all play a significant role in our fatigue experiences. Fortunately, there are many ways we can manipulate our emotions, stress, and memories to have a positive effect instead of the more common negative effect. Hopefully, you can try some of these methods on your coming workouts and races … and feel better, run longer, and run harder than you have in the past!
For
daily wellness, marathons

and

every mile in between...

- Doc