February and March are busy months for me this year. Most of my extra energy (minimal, considering my 3 year old and nearly 5 month old) will be spent preparing for a 2 hour presentation at the Oregon Physical Therapy Association's Annual Conference in March. I hope to help other therapists wrap up the treatment of runners by providing a "coaching 101" crash course at this conference. Hopefully, the PTs who attend will leave with a bit more knowledge in how to effectively return runners to running and provide some guidance to help decrease the chances that particular runner will be back in for PT again. The Indoor World Track and Field Championships begin in Portland that week also, and I am slated to work on the medical team for two dates during the time the running world will be descending on Portland. And finally, I am hoping to attend at least some of a medical symposium on the treatment of Track and Field athletes that is associated with the World Championships. Busy, busy, busy …
As I sift through the neck-deep material I'm preparing for the 2 hour presentation, I have again been struck by the belief that "everybody is a case study of one" – this is a general statement and also a statement specific to runners. Truly no two runners are alike – the variability present within runners is massive.
Running injuries are one of the most exhaustively researched fields in athletic injury research, and the conclusive findings are almost nil. A well-designed study will come out with a clear finding that x is definitively linked to y injury only to be followed up by another well-designed study that will find that x is definitively NOT linked to y injury. For at least 9 years now, systematic reviews (the most conclusive form of research that can be published) have basically found that the only consistent and true predictor of running injuries is … drum roll … wait for it … having a prior running injury. Foot strike, cadence, pronation, weak hips, poor form, speed work, slow running, old shoes, etc., etc., etc. all have conflicting evidence. You can imagine that this does not help those of us who are interested in preventing running injuries!
Even when a great research article comes out with seemingly firm findings, it has to be taken into account understanding that the "clean research environment" often is much different from the highly-variable "real life" environment. "Control" is often what makes for good research, but "chaos" is often what makes up real life. This is the reason why "evidence-based practice/medicine" whether it is in physical therapy, running injuries, coaching, or any other area takes much more into account than just research: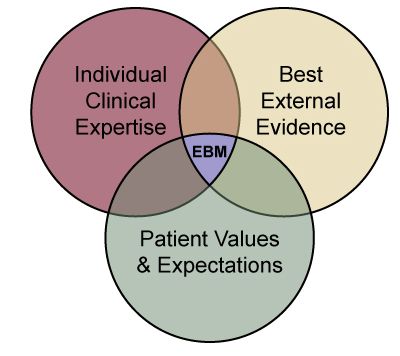 In Physical Therapy and in coaching, what makes an EXPERT PRACTITIONER is being able to take all of this "triad" into account and apply it to the person in front of them. As a coach, I have to be able to:
Know my stuff – have a base of knowledge to work from, stay up to date – but skeptical – on new trends in coaching and performance enhancement and injury prevention, look to expand my knowledge and abilities (Best External Evidence)
Reflect on experience – remember past failures and successes, be able to analyze "what went wrong", compare the athlete in front of me to experiences with prior similar athletes (Individual Clinical Expertise)
Specify training to the person in front of me – get to know my athlete both from an athletic perspective and also a life perspective (because this has a big impact on running), adjust approach based on athlete response, work alongside athlete to understand individual's goals and preferences, understand the athlete's past experiences, build training plan and modify plan to the person in front of me (Patient Values/Expectations)
The challenge as a coach and practitioner is to balance these three areas as well as possible for the person in front of me. I can't allow my experiences in the past, knowledge of coaching/injuries, or beliefs about the athlete in front of me to individually play too large of a role as I come along side help develop the athlete.
This idea of "evidence-based practice" is why there are so many different coaching approaches and why so many of these approaches work (and fail). Lydiard's, Hanson's, Daniels', Galloway's, Fitzgerald's, Wetmore's, etc., etc. are all different base approaches to coaching athletes. Some are more rigid in nature: Lydiard, Daniels, and others are more flexible in nature: Fitzgerald's, Galloway's. But these specific approaches all work for some people, and they all fail for some people.
This is the precise reason why I believe that having a multi-faceted background and approach is successful for coaching a variety of athletes. As an individual, you are a case study of one, and it is my job to figure out how to come alongside you and help you become the runner you want to be. It might be high mileage or low mileage, it might be a Daniels approach or a Galloway approach, it might be a focus on supplementary work or increase in running work. And, quite frankly, it might not work! And that isn't because you are a "bad runner" or I am a "bad coach". It is due to the fact that running is largely such a complex, unpredictable, uncontrollable activity that gives the runner and the coach multiple opportunities to mess up!
There is no secret training method. There is no way to guarantee prevention of injury. The program that works for your friend is not guaranteed to work for you. There is no one way to get you to your running goals. However …
There are a lot of methods that can work for a lot of runners. There are a lot of things that can be done to potentially help prevent injury. There are multiple approaches to coaching, so don't worry if your friend's approach didn't work. There are a lot of ways to help you reach your running goals!
If you want to take your running to the next level and achieve your goals, remember that you are a case study of one! If you want to try the newest Runner's World training article, go for it – it might just work for you. If you want to get a coach to help you, go for it – just make sure the coach is adaptable and will individually help you, not being rigid to a specific approach.
Be the runner only you can be!
For
daily wellness, marathons

and

every mile in between...

- Doc