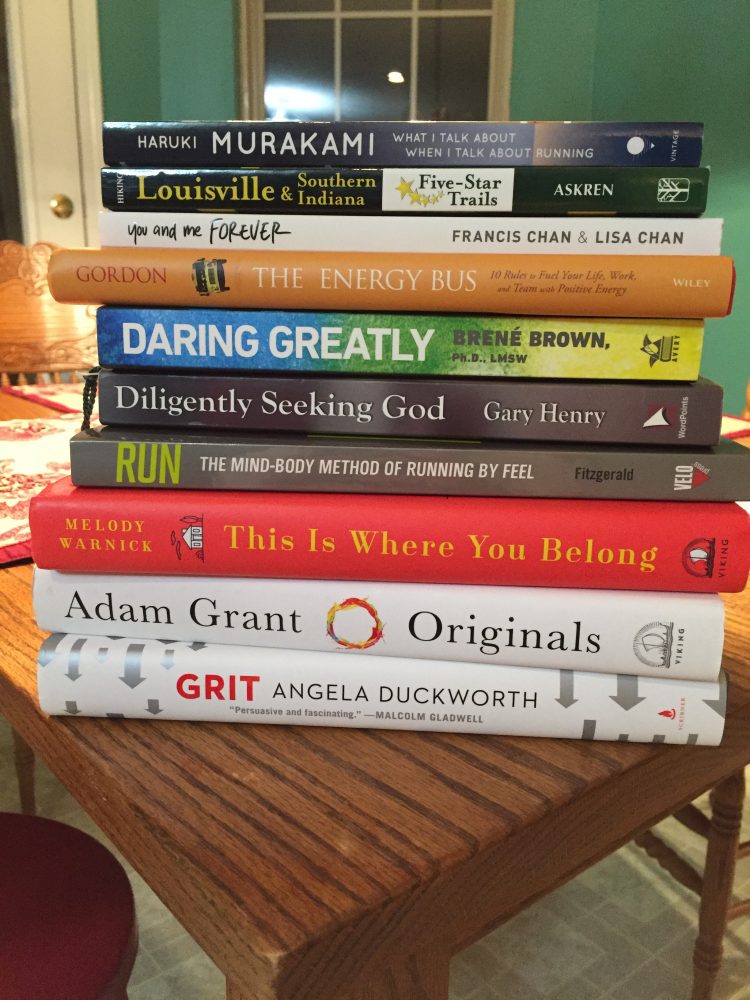 Originals by Adam Grant
This has been a popular read this year for a lot of coaches and professionals that I "follow" from afar. This book looks at how individuals who "go against the grain" can have success and sometimes have enormous success in this world. I generally like Adam Grant's work and am looking forward to this book!
Grit by Angela Duckworth
This is another popular read among individuals I have a lot of respect for. This looks into the psychology behind "grit" where she explores how passion and perseverance can lead to different avenues of success in one's life. Again I am looking forward to some inspiration to continue chasing my dreams and developing as a person.
What I Talk About When I Talk About Running by Haruki Murakami
This is becoming a more popular read among runners and has a catchy title, so I decided to check it out. Over the last several years, I have embraced introspection and self-reflection more and more, and I think I will likely be able to relate to several parts of this book – should be fun!
Run: The Mind-Body Method of Running By Feel by Matt Fitzgerald
Matt Fitzgerald is a popular author of running books, and this has been on my list for a while. I find that convincing runners to have confidence in "running by feel" is one of the harder parts of my work as a coach … made even more difficult by the fact that I am usually a "virtual coach", which means I can not have a conversation with or see the athletes I am coaching on a daily/weekly basis. I am hoping I can get some good "ammo" to help me become a better running by feel runner so that I can relate that to my clients.
Daring Greatly by Brene' Brown (currently reading)
Brene's Gifts of Imperfection was on my list last year, and this follow up is one I just began reading for this year. I love her work on vulnerability and authenticity and hope I can continue to develop those characteristics in my life. I would say that her approach to "self-improvement" has changed the way I view myself and others more dramatically than any other person, group, or "method". Should be a good read!
Diligently Seeking God by Gary Henry (currently reading)
This will be my second or third time through this daily devotional book. Gary is an excellent writer and is able to get across so much depth in one page per day of the year. I appreciate being made to pause and truly think about the ways I am and am not "diligently seeking God". Hopefully, this will help me keep my focus on God in my life.
The Energy Bus by Jon Gordon (currently reading)
This is a current read that the staff at KORT New Albany is going through. So far I've enjoyed the story and am appreciating the ways in which I am thinking about my own "bus" and where I am headed. Should be a fun book club discussion in February!
Louisville and Southern Indiana Five Star Trails by Valerie Askren
Oh how I am going to miss having so many amazing trails at my fingertips in Oregon! That being said, southern Indiana has a beauty to it and there are multiple trails we can hit up around the area. I am thinking Samuel will be a little more willing and able to participate and we might be able to get out to enjoy nature a little more this year. And bonus if I find some good running trails also!
You and Me Forever by Francis and Lisa Chan
My wife and I have been missing time to study something together, so we have talked about trying to work through a devotional book. We have both been/felt challenged by some Francis Chan material in the past, so I am thinking this will be a good book for us. It is a nontraditional take on how to have a Godly marriage … instead of focusing on how a husband and wife can serve each other, it seems that Francis and Lisa focus on how a husband and wife can support each other in serving God. I'm looking forward to the challenges and discussions!
This is Where You Belong by Melody Warnick (completed)
I just wrapped this book up in the early part of January. It was a good read overall leaving me with some good ideas of ways we can try to make Corydon our home. I look forward to implementing some of the "love where you live" experiments that she shares in the book.
Board Certification Material for Orthopedic Clinical Specialty
In all honesty this material might limit my ability to read all of the above. I am part of a study group over the next 12 months to help prepare to sit for an Orthopedic Board Certification in Physical Therapy in March of 2018. Knowing the way I study, I likely won't buckle the straps down too hard until later in the year, but I will definitely need to be keeping this at least a partial focus for most of the year. I am looking forward to getting a bit of updated information and having my clinical reasoning and abilities challenged during this process!
Happy Running and Reading for 2017!
For
daily wellness, marathons

and

every mile in between...

- Doc