Let's paint a picture of a pretty common scenario:
You have a high intensity speed workout or long tempo session planned for early evening
You slept in this AM to get a bit more sleep and rushed around to get out the door to start your work day. Work was a grind today with long hours and big projects that seemed to go nowhere. Then, right before leaving your boss called you in to talk about some underperformance on one of those projects. Finally, you get to go home … and really need that workout tonight
You quickly get your running gear on because you know you need to get that run in to relieve stress. Working hard sounds appealing too, so you are glad that it is a workout night. You do your warm up and feel a bit sluggish and bogged down but okay to continue
You start your workout, and you can barely hit your mark on the first and second rep, and it just goes way downhill from there. Instead of feeling refreshed after that hard workout, you are drained even more and mad that you couldn't hit your goals again.
What a waste of a day!
Anything like that ever happen to you?
Why? Why were you not able to perform like you "should have been able to"? Let's assume you weren't overtrained, you weren't injured, sleep had been good, and you were in good physical condition for this workout. So, what happened? Why were you so sluggish?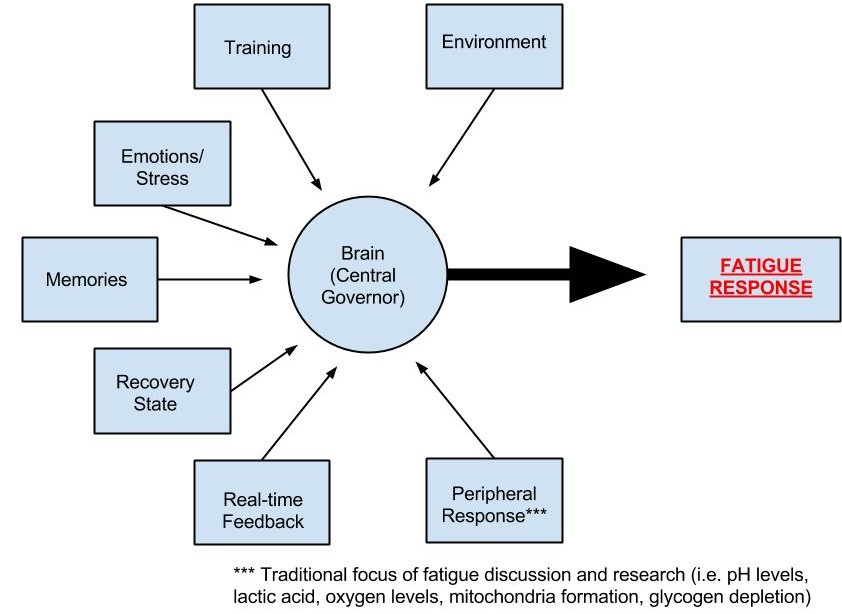 Likely, your emotions and stress were playing a big role in what you were feeling. The big increase in stress combined with other factors to influence your brain to produce a stronger fatigue response than typical. And then you bombed your workout just like you bombed your day :(
Today, we will spend a little bit of time exploring how emotions, stress, and memories can influence our brain and, therefore, influence our fatigue response during running.