Great question that nearly every runner will have at some point … problem is that there is not a great "one size fits all" answer. There are some general principles that I feel can be applied across the board; however, each coach will have a specific way he/she addresses form based primarily on their experience with athletes they have coached.
I am pretty middle of the road in addressing form – meaning that it is not at the top of my list of things to change for runners. The reasons for this are numerous, but I will talk about a few here before getting into some tips:
There is no universally "perfect" form. We are all biomechanical individuals, which means that we all have specific parts of our running form that are unique to just us
I believe that we tend to "self-select" a form early in life and continue that as we develop athletically. I also believe there is a reason our body chose that said form at the time(s). That doesn't mean that it can't or shouldn't be changed, but typically our body tries to find an efficient way to use its energy. It's not uncommon for people to change their form for various reasons (i.e. trends, desire for time improvements, etc.) and then find themselves injured or struggling in running again
For most recreational runners, other variables aside from running form are more important – weekly mileage, variety in runs, strength training, etc. all play more important roles in my opinion. Sometimes form importance will get bumped up in times of very poor form (from the norm) and injury.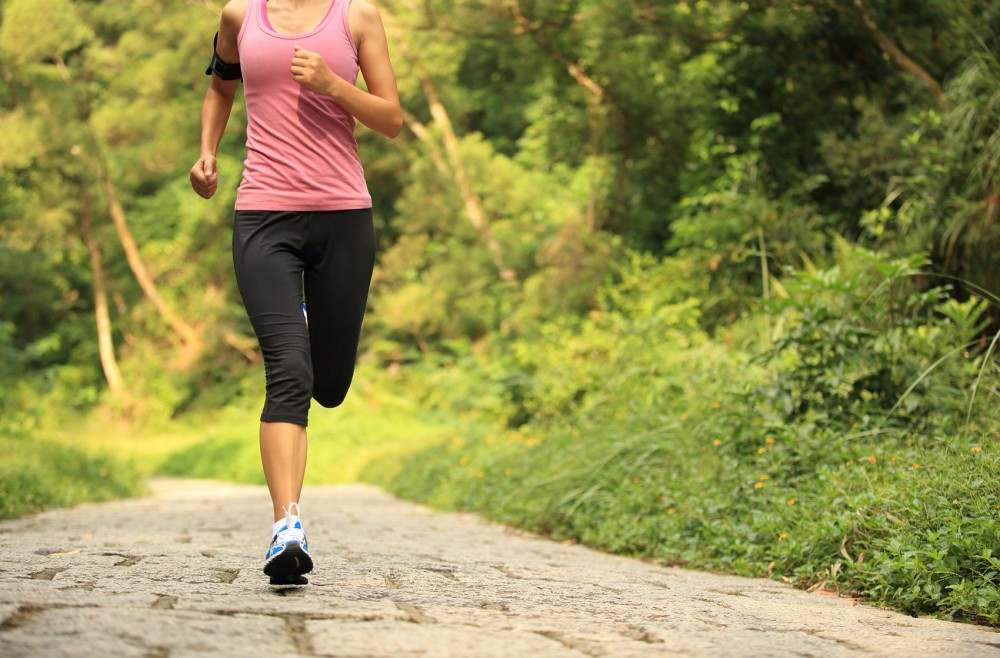 Nonetheless, there are some changes to form that could likely benefit all runners, so here we go with my pointers for form:
Three things I DO care about:
1) Is your foot landing under your hips/pelvis (or close to that)???
If the answer to this question is no, this could be something that could help you with performance and injury prevention. Landing with our foot too far out in front of us has a significant impact on the rest of our running form. It causes poor transfer of energy as you actually tend to "brake" and land roughly to absorb the energy from your "single leg hop", it places your hamstrings and gluteal muscles in a poor lengthened state making it harder on them to perform as they are supposed to, you waist energy pulling yourself forward instead of propelling yourself onward, and you spend extra time on the ground that is not needed.
How do you figure out if you are doing this if don't have a coach??? Have someone take a smartphone video of you running from the side. Make sure they get your whole foot and hips in the video. When you look at the video, pause it when your lead foot first hits the ground. Now look at your hips/pelvis and pretend to "draw a line" from the front part of the pelvis down to the ground. Finally, compare where your foot is to that line.
My typical rule of thumb is that if you are within a shoe length, you are probably okay. If your foot is more than a shoe length away from the line, you are likely over striding and landing too far out in front of your body.
Overstriding? What next? There are multiple ways to try to overcome this trap of landing with your foot too far out in front. You could simply start changing by repeating to yourself "land with foot under" or "foot under". "Quick feet", "quick turnover", or "ninja feet" (to quiet your strike) often work also. Have the same friend take another video, and see if you notice a difference, and keep working from there!
2) Do you have good hip extension???
We started by looking at how your "swing" foot lands … now we go all the way to the other end and look at how your "plant" foot ends. Specifically, I'd like to know what your hips and pelvis look like. Runners often will lack hip extension, which effectively means they are not using their super powerful gluteal muscles and relying way too much on other muscles to make up for that.
How do you know if this is you? Look at the video you shot earlier and freeze the frame where your back foot is starting to lift off. Now look at your hips. If you imagine your femur (thigh bone), it should be at least in line with your trunk or preferably angled back greater than your trunk. If it is just in line or actually forward compared to your trunk, you are very likely not using your gluteal muscles and lacking a lot of power in your running.
So, now what? This one is a bit tougher but can generally be changed in a few different ways. "Tight butt" is a cue I give out frequently, which simply means to tighten your butt muscles when you are pushing/rolling off that back leg. For a while, it will likely lead to you staying on the ground longer, but this should clear up with more time practicing it. "Stride out" is another cue that I sometimes give for this; however, that term can have multiple meanings across the board, so sometimes it doesn't work. While I am not big on "drills" for running form, single leg squats and bench step ups with focus on activating the gluteal muscles can be valuable for this.
Finally, hard near-sprints or sprints up a hill are great for activating your gluteal muscles and helping you lock in your form in general. Just make sure you are injury free and not feeling susceptible to injury if you try the hard uphill work. Uphill sprints are usually one of the early true "speed" workouts that I give to clients largely because it helps you activate the right muscles in the right ways.
3) Are you staying upright or very slightly leaning forward???
Often recreational runners are just not great at locking in their trunk position. The late run (or full run) slump is very common among those of us who don't do this for a living. This position counteracts #2 above very strongly … it is very difficult to get that hip extension angle if your trunk is leaning super far forward. You probably can identify this one pretty easily, but if not, pull out your ever-useful side video again and take a look.
Slumped forward? This one is typically pretty easily corrected if you can keep your focus on it. "Upright", "tight core", "stay tall" are all cues that work pretty well for this. Make sure that you don't overcorrect by arching your low back. There are other problems that come along with the arching and being too upright or leaning back.
Summary: The three things that I care most about on runners if I am working on form are: foot landing in relation to trunk, hip extension, and upright posture.
If you feel like changing something, I would recommend starting with these three
I'd also recommend only working on one thing at a time. It truly takes concentration to make a form change. Again, we are going against something our body has done for a long time, so be patient with yourself and keep it simple by not working on multiple things at once
When changing form, it is very likely that certain areas are going to feel different during and after a run. Almost universally, runners will report calves or hamstrings working more/differently if they have major corrections they try to make. This is okay as long as it is not injury provoking.
Try not to make form changes right in the middle of a ramp up in running intensity/volume. It takes time for the body to adjust, so give it time during regular training vs during hard training.
Three things I DON'T care about:
I won't go into as much detail here, but I wanted to share three things that I typically do not care about when I coach running form. Caveats:
Any given individual's case might have good reason for me to care about these things
The first two listed below can be somewhat related to injuries, so certain injury-prone runners might benefit from a change
This is pretty controversial stuff, so you might here a different opinion from a different coach … and that's okay!
1) What is your specific stride rate???
This is a big deal right now. Everybody is really spreading the word about trying to get to a 180 strides per minute or higher. And, ultimately, it likely is not going to hurt anyone to get up to 180 spm. However, it is difficult to change your stride rate to that level especially if you are starting pretty low (160s or under). Another thing to keep in mind is that almost all of the studies that have looked at runners who naturally have 180 spm are elite or near-elite. That's why I tend to focus on foot placement in lieu of stride rate. If you are landing with your foot in a good position, your stride rate likely is going to be around 170 spm or more, which is certainly acceptable in my book. There is some good research in the Physical Therapy field showing that increasing stride rate can be beneficial for recovering from some injuries, but I feel the runners in these groups likely were landing with their foot out in front too far as well, so changes there likely would have led to the same.
One nice benefit of a stride rate focus in the use of a metronome. If you are struggling with foot position mentioned above, you could try a metronome set for 170 bpm on up to 180 bpm, and you will likely get that foot placement under control
Again, there is nothing wrong with stride rate focus, but the bigger change in my mind is where the foot lands!
So, maybe I care a little bit :)
2) How does your foot land – heel, mid, forefoot strike???
I don't care. I really don't. The only time I do is if you are struggling with stress fractures/reactions or achilles problems … and even then, I'll likely focus on changing other things before how your foot lands. There are some people who believe very firmly in a specific foot strike, but I have never seen anything convincing in the research … and there has been a lot of research. Similarly, elites land all across the board and actually tend to change in the midst of races. It's not worth the change in my book!
3) Is your shoe right for you???
Yes. No. I don't know. If you want a research-based answer, that is it. This has been looked at in study after study after study, and this is still the answer. I do make shoe recommendations or insert recommendations for certain runners with certain injuries, but as far as a general population goes, I don't care. This is once again an area that people feel strongly on but have no good research to support their stance. The latest research indication is that selecting shoes based on comfort is the best way to go. However, this is not necessarily any better advice than prior advice. Suffice it to say, if someone is really working hard to convince you to change to a minimalist or maximalist or anywhere in between shoe (or forefoot, midfoot, rearfoot strike for that matter), they are doing so based on personal or anecdotal experience and/or shoddy research – again in my opinion.
So, that is form in a nutshell from my perspective. And that is what it is – my perspective. Each individual coach will have a variety of thoughts on form. Even at the elite level, coaches vary on form focus. Alberto Salazar is famous for manipulating form to its finest details while other pro coaches only make changes if there are huge issues with form. Form is too hard of a thing to study, manipulate, and normalize for us to have any great footing to stand on, so use these as tips to get you in the right direction but not as the end-all-be-all. Thanks for the question!
For
daily wellness, marathons

and

every mile in between...

- Doc