I have had the pleasure this year of coaching Middle School Track and Field at one of the local school districts, and it has been a blast working with young runners and athletes. I have been tasked with working with the distance runners and the throwers along with providing a full warm up program for 115+ kids during the first 30 mins of practice. I have learned a lot and hopefully taught a lot along the way so far.
We had our first meet last week, and the kids were understandably nervous about the first race. Multiple kids were surprised that there were no time trials in the days leading up to the race and questioned why. So, this blog post will address that a bit from a Track perspective but also from a training perspective for adult runners from any distance from 1 mile to marathon.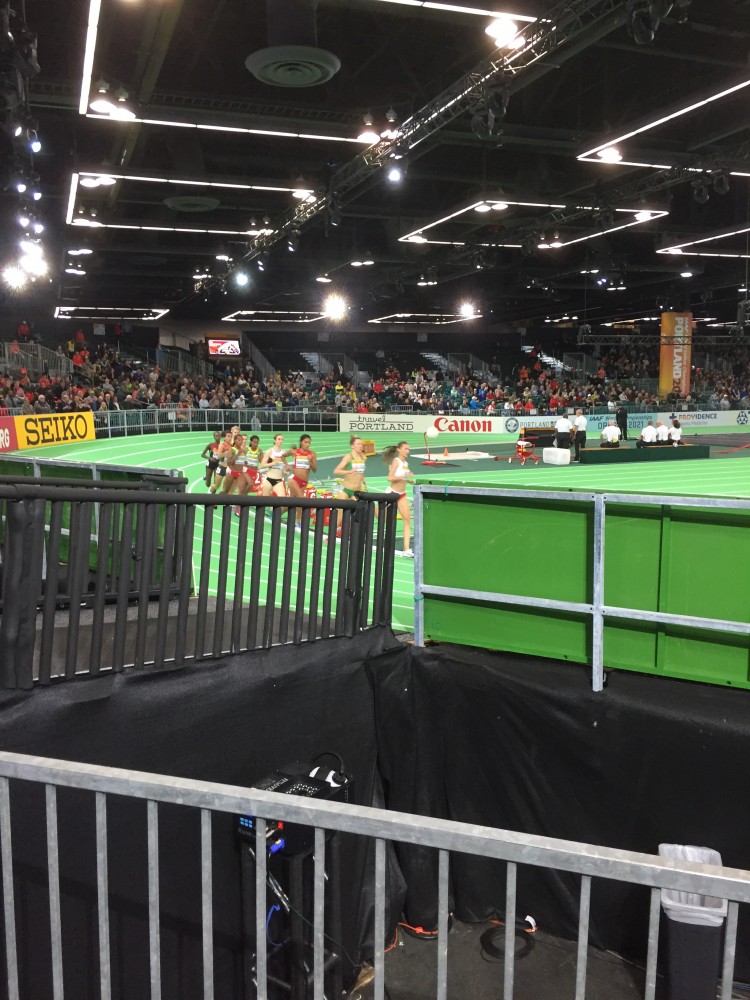 (Pic of a 1500m heat from the World Championships recently in Portland)
My answer to the kids was "No, we aren't going to do a time trial before the meet". Essentially, the reason behind it is the same reason that Brenda Martinez (in 3rd place above) does not do a 1500m time trial a few days before her race: time can be spent doing much more beneficial things. Track season is notoriously short and even more so when you throw Spring Break in after the first week of practice. For our group, we essentially have 7.5 weeks (not counting 1st week & Spring Break) with 6 meets spread across those weeks – that's not much time to try to develop 800m and 1500m runners even at the Middle School level. The second part of my response was "The 1st Track Meet is your time trial!".  Luckily for me, the kids bought into it for the most part and trusted me.
Likely unsurprising to most readers, adult runners fall into the same trap as Middle School runners wanting to feel like they have fully tested themselves prior to the event of choice. Some people go about this by running the event distance at a slightly easier level than planned to see how they feel; others choose to "race down" such as running a 5k time trial during a 10k training plan; and still others go ahead and choose another race a few weeks prior to the target one and race full effort. In rare cases, this is part of "the plan" … more often than not, it is more nervous energy that leads to this in a training plan.
So, why do I advise against time trials at event distances? Two primary reasons come to mind readily:
There are more valuable workouts that will lead to improved performance in the long run
Max efforts require more recovery … longer max efforts require longer recovery … race distance max efforts require typical race distance recovery
Workout value vs. time trial value
Again, using our Middle School team as an example, we have limited time to achieve optimal results. With essentially 1 Track Meet every week the last 6 weeks of the season, I have 1.5 weeks of training that will not include an event. If you think you can convince Middle School runners to not "go all out" at Track Meets, you are much better relating to them than me, or you are dreaming. So, basically 1 "workout" every week is a max effort tempo run = 800m and/or 1500m event. That leaves room for maybe 1-2 other "workouts" per week depending on the different kids. Some kids want to run over the weekend, which sometimes will include a "long" run. Otherwise, there is 1 spot left available to work on speed or tempo or fartlek or any other type of training. So, over the course of 7.5 weeks, I essentially can provide 7 quality workouts with maybe 2-3 more "medium workouts". Keep in mind that some of the "quality workouts" are early season workouts where most kids are not in much running shape and are therefore limited. So, losing 1/7 quality workouts to a time trial is basically not going to happen :)
That's not to say that time trials do not have value. I'm sure that every runner on the team would have loved to have had an idea of where they were capable of finishing specifically at the 800m or 1500m distance. Time trials can provide a huge mental boost to help you know where you stand and if your training is on track. And let's face it, sometimes the mental boost is more important than the physical boost a workout can give.
But that's where you can find compromise! Instead of 800m and 1500m time trials, I combined a pre-meet practice that is typically easy and prep work with a 1x200m time trial at 95-100% effort. The 200m distance is slightly longer than ideal for pure speed work but is a good easy workout that can give a lot of information while providing minimal need for recovery. Based on the 200m times, I was able to use tables from Daniels Running Formula to project 800m and 1500m times. In turn, I was able to give each kid a "pump the brakes" time at the 200m mark. If they went out too hot, they knew it at 200m and could adjust pace accordingly. The method worked out great! The kids got some peace of mind and had realistic expectations of where they were capable of finishing. More importantly to me, almost all the kids were able to run an even split or negative split race, which is not often the case in early season Middle School meets!
So, how about an adult example?
The reasoning above applies across the board, so I won't go into that again. Let's say we have an adult runner who is a half marathon runner and really wants to know where they stand before going into a race. Because of that, they are considering running a half marathon 4 weeks out from their target race. As you can guess, I am likely not in favor of this decision. Running a half marathon on full or near full effort will result in a big recovery need and easily could take out 3 workout day possibilities. Instead, I might offer any number of alternative possibilities that could give us some good information:
10k race time trial with intentional 2-3 mile warm up
2 miles easy pace, 8×1 mile at race pace with 1/4 mile recovery jog, 1 mile cool down – likely this would be a late training plan workout
PM Day 1 = 7 miles + 8 strides, AM Day 2 = 2 mile warm up, 5 mile progression run to just faster than target race pace, 1 mile cool down
Etc., etc., etc.
Any of the above options and many others would provide a great workout stimulus that could fit well within a progressive training plan. These workouts would give good predictive information as well, which could put the runner "at ease" depending on the buy in for the training. They also would allow for easier handling of recovery.
Workout recovery vs. time trial recovery
Generally speaking, recovery from workouts are well designed into an overall plan for individual runners or teams. For the most part, you can get 2-3 quality workouts in per week (i.e. speed work, tempo work, long run, progression run, etc.), but it all depends on the overall effort of those workouts. Recovery between bouts sometimes can be full and sometimes partial – there are some benefits to coming into a workout on tired legs as long as the overall volume/intensity of training is acceptable.
On the flip side, recovery from full effort time trials generally should mimic the recovery needed for the event in question. For shorter distances such as my Middle School athletes' 800m and 1500m, this is not a big deal. From a workout perspective, recovery for those events is generally 1-2 days, which fits a normal workout cycle anyway. However, for longer distances, recovery becomes a much bigger deal. A commonly accepted rule of thumb is that you need about as many days as miles of the max effort event to recover:
For 5k – around 3 days before resuming normal training
10k – around 6 days
Half marathon – around 10-15 days
Marathon – around 20-30 days
So thinking back to the adult half marathon example, a "time trial" at or near max effort would take around 10+ days to recover from. This could have a profound effect on training due to taking out 1/3 to 1/2 of a month leading up to the half marathon target race – basically, the most essential part of the training plan would be in jeopardy. Obviously, these are generalizations; however, even missing 1-2 key workouts during that period can completely change the outcome of training.
Trust the training
Ultimately, event distance time trials are most often completed for mental gains. It almost always would be better to do a more specific and planned workout in lieu of a time trial. And this often comes down to trusting the work and training that is being done. If you don't trust the training or you feel unprepared, you are going to be more likely to want to test the water a little bit. Training is a process – a long term process – and each day builds on the prior days, each week builds on the prior weeks, each month builds on the prior months, and each year builds on the prior years.
Trust the training, and time trials become less appealing!
For
daily wellness, marathons

and

every mile in between...

- Doc