Last post was a review of 2015's readings. So, this week I thought I would let you know what is on the reading list for this coming year. Now, this is likely to change given that I frequently add books throughout the year that I want to read and importance gets reassigned. So, it will be interesting to see if I actually make it to all of these or not!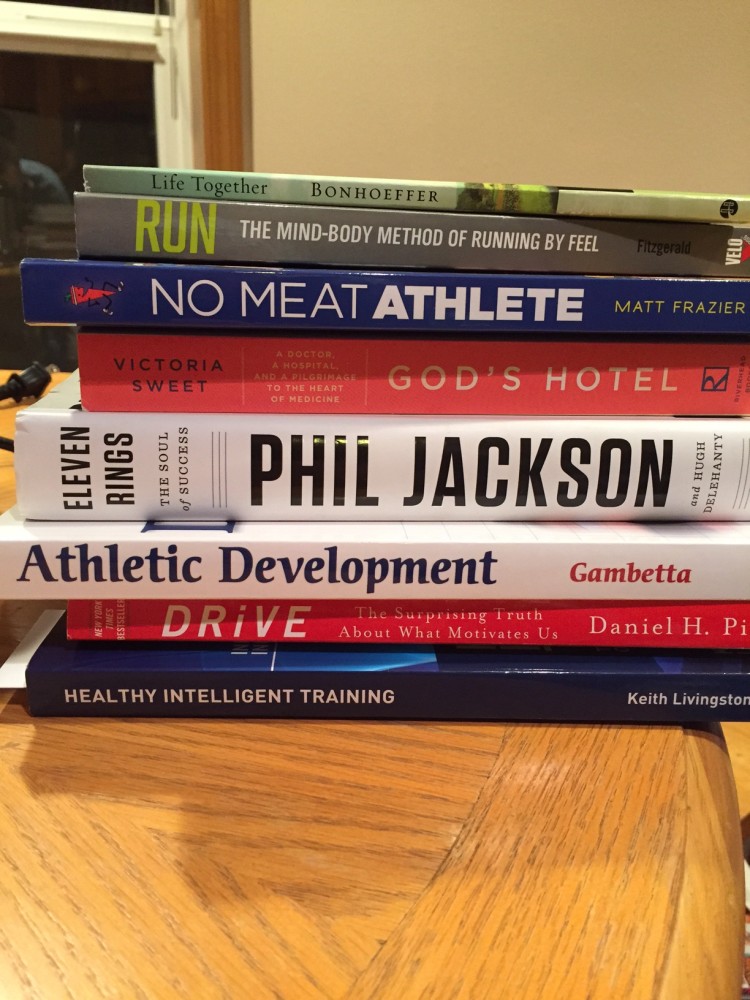 Currently reading:
Healthy Intelligent Training by Keith Livingstone
Great read on Lydiard style training. The author does a great job presenting the material and science behind a lot of Lydiard's recommendations for training. Really enjoying this read and currently using in my own running and implementing with some of my athletes.
Antifragile by Nassim Taleb
See last post … this one will be "currently reading" for a while. Just started it up again though and really enjoying it again. Really love the idea of "anti-fragility" and how it can apply in all aspects of life.
Drive by Daniel Pink
Good read so far on what motivates us as individuals – specifically in regard to our work. Unsurprisingly, money minimally affects how happy we are in our jobs.
I Want to Live These Days with You by Dietrich Bonhoeffer (a collection)
My current devotional book that works through excerpts of Bonhoeffer's writings. Good stuff.
Running & Being by George Sheehan
I read this one periodically before bed. I really like the ideas that are presented about running just being a part of some of us. Much of the "science" I don't buy into, but it is a fun read nonetheless from a very influential author in running in the "boom" days.
The Gifts of Imperfection by Brene' Brown
Fantastic read and fantastic author. Really working on becoming more authentic in my life, and this material is a big help with that. Highly recommend for anyone wanting personal development and to work on relationships in his/her life.
To Read – Running related:
The Science of Running by Steve Magness
This will be a re-read, but I really see this as a foundational book for my coaching approach. Really feel that Magness has done a great job combining a lot of input from various sources and coaches to come up with a good process-oriented coaching scheme.
Athletic Development by Vern Gambetta
Have loved any material I have heard and read from Coach Gambetta (strength and conditioning, track and field) and looking forward to working through this book. Should be especially helpful in thinking about the middle school track team I am working with.
Run: The Mind-Body Method of Running by Feel by Matt Fitzgerald
More and more, I am finding I want my runners to "run by feel", so why not read a book about it :)
No Meat Athlete by Matt Frazier
I largely do not eat meat other than seafood 1x/week, so I am interested in any books in this realm, especially when it is coming from an athletic perspective. Hoping to continue picking up information and tips to be a more informed plant-based athlete.
To Read – Non-running related:
Leaders Eat Last by Simon Sinek
Really feel like Sinek puts out great stuff on leadership and excited to read this one!
Eleven Rings by Phil Jackson
One of the greatest coaches of all time … hoping to pick up some tips and apply them to individual and team coaching. Also, it will be fun to relive my childhood days of being a big Michael Jordan and Bulls fan!
God's Hotel by Victoria Sweet
Should be an interesting read about a different medical team approach
Life Together by Dietrich Bonhoeffer
Again, love this author. Looking forward to reading some of his work on how Christian communities should look
Written in Fire by Marcus Sakey
The third in a trilogy called the "Brilliance Saga". Need to refresh myself on the first two before reading :)
Shift by Hugh Howey
Prequel to the Wool books reviewed in the previous post. Will be fun to see the "history" of this crazy dystopian society!
There we have it. My (current) reading list for 2016. We shall see how it matches when I review it in 2017! Hopefully, you'll have some new ones to add to your list too :)
For
daily wellness, marathons

and

every mile in between...

- Doc