Tis the time of the year (or a little past) where it seems good to reflect back on reading for the past year. So, here are some of the books that I read in 2015 – both running and non-running related with some brief reviews to potentially spark your interest :)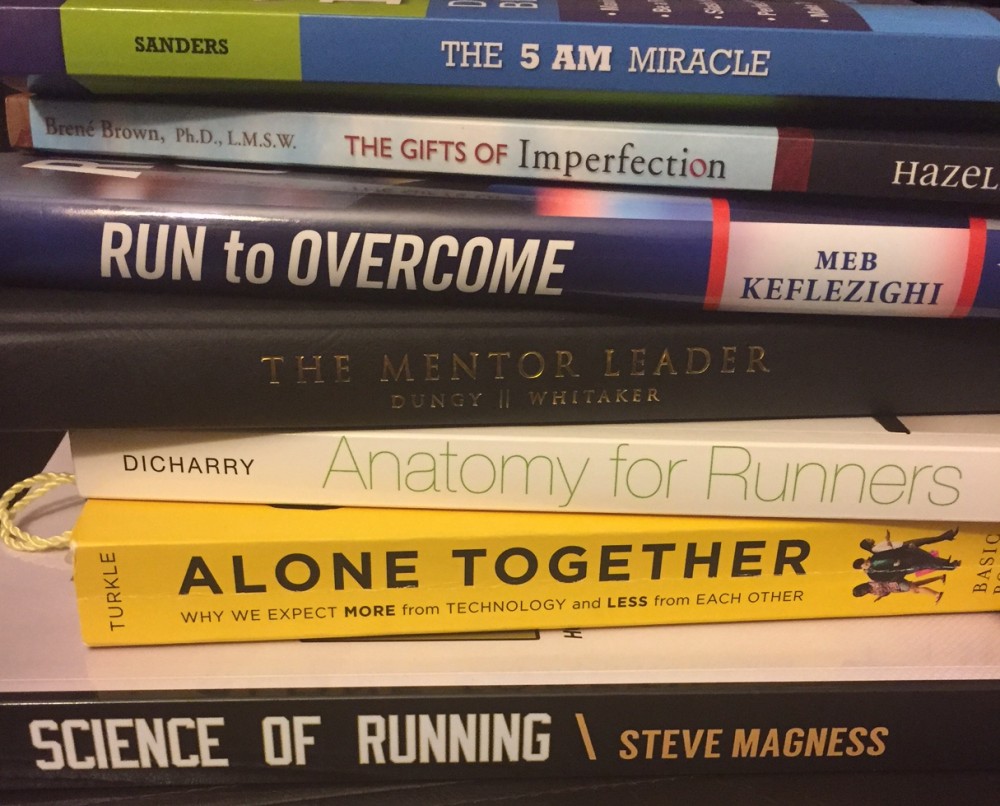 Running related:
Daniel's Running Formula by Jack Daniels
Great book for any serious runner – especially if you are major Type A personality. He gives specific instructions with specific paces and specific prescriptions for various races. Good overview of science behind coaching decisions as well. Important part of any running coach's library even if moved on from pure Daniels' approach
Eat and Run by Scott Jurek
Good quick read about ultra-running legend. Was hoping to read a bit more about run-work-family life balance, but he focused almost exclusively on the running part while philosophically addressing family and work life.
Run to Overcome by Meb Keflezighi
Good read about one of the best running success stories from the USA. Meb's story is so inspirational, and it was great to get to read it first hand. He truly is a legend.
Anatomy for Runners by Jay Dicharry
Great, great book written by a fellow PT here in Oregon. Would be good to have on any serious runner's bookshelf especially if you are going through or have gone through an injury. One of the best books for explaining running biomechanics in layman's terms. Also has awesome section with recommended supplementary mobility and strengthening exercises.
The Science of Running by Steve Magness
Another great general running book to have as part of a coach's or serious runner's library. Addresses science behind running and presents recommended coaching approach as a result of that science. Good modern overview of coaching that includes some up-to-date research. Really like a lot of Coach Magness's approach to running.
Side note – "Magness & Marcus on Coaching" is a great podcast that features Steve and Jon Marcus that I highly recommend for any HS, college, or independent coach. Great material!
Non-running related:
Wool series by Hugh Howey
Great and unique post-apocalyptic series of short books. He also has a prequel and sequel series that I will be reading.
The Mentor Leader by Tony Dungy
Good, practical approach that addresses a "relational mentoring" leadership style. Has a lot of useful material that can easily be implemented for anyone who wants to become a mentor in any area of life (hint: this should probably be all of us)
Antifragile by Nassim Taleb (currently slowly reading thru)
One Amazon reviewer recommended reading this in chunks, and I completely agree. Taleb's writing is a bit hard for me to digest in huge sections, especially since this is kind of a "manifesto"; however, I really like the theory and definitions that he is putting out there. Basically, he presents the following ideas:

Fragility = systems that are not capable of effectively resisting threats, challenges, stressors, attacks
Robustness/Resiliency = systems that are capable of recovering from or resist failure as a result of threats, challenges, stressors, attacks (this is often what people would have defined as the opposite of "fragile"
Anti-fragility (Taleb's new term) = systems that improve or increase in ability as a result of threats, challenges, stressors, attacks

His theory can really be applied across a lot of different fields including running, coaching, PT, leadership, etc.
Boenhoffer: Pastor, Martyr, Prophet, Spy by Eric Metaxas
Great biography of my favorite theologian and particularly meaningful, I think, in the challenges we are facing in today's world. Boenhoffer had to make some tough life decisions in the midst of Nazi Germany, and it is very insightful to read about his struggles and work during that time.
Brilliance by Marcus Sakey
Good near-future novel that touches on some political commentary regarding how individuals and governments approach people who are "different"
Alone Together by Sherry Turtle
Great reflection on how technology is changing the way "real" relationships operate (i.e. how many people go through an evening with their kids or spouse without having the phone out to check texts, emails, Facebook, etc.?). Our children are going to grow up in a world completely different than any before them with the major technological and communication advances that have and are occurring … how is that going affecting and changing relationships?
The Martian by Andy Weir
Cannot recommend this novel enough. Great and very fast read. If you like suspense/action in reading, this is a must read.
The Gifts of Imperfection by Brene' Brown (nearly finished)
I absolutely love Brene's work, and this book is fantastic at helping you develop as an individual and be confident in presenting your own flawed self to others. Highly recommend for anyone wanting personal development reading.
The 5 A.M. Miracle by Jeff Sanders (nearly finished)
Good read regarding productivity and how to reclaim control of your day without letting outside influences dictate your life. This is especially needed for me as a parent of a 4 month old and a 3 year old – I often feel a complete lack of control :) Two principles I really love from this book:

Zero Inbox – He recommends completely emptying your email inbox every day, and I have loved doing this (I admit I only get to complete zero 1-2 times/week, but the principle is the same). You should seriously try it!
Focused Big Project Time – I always have multiple cogs turning and multiple "big" things I want to do, but I often don't give any of them enough attention. Jeff recommends limiting to three projects per quarter of the year and really focusing on them. So far, I have really liked this approach!
So, there are my book reviews from 2015. Hope you pick up a copy of one of these and let me know what you think!
For
daily wellness, marathons

and

every mile in between...

- Doc